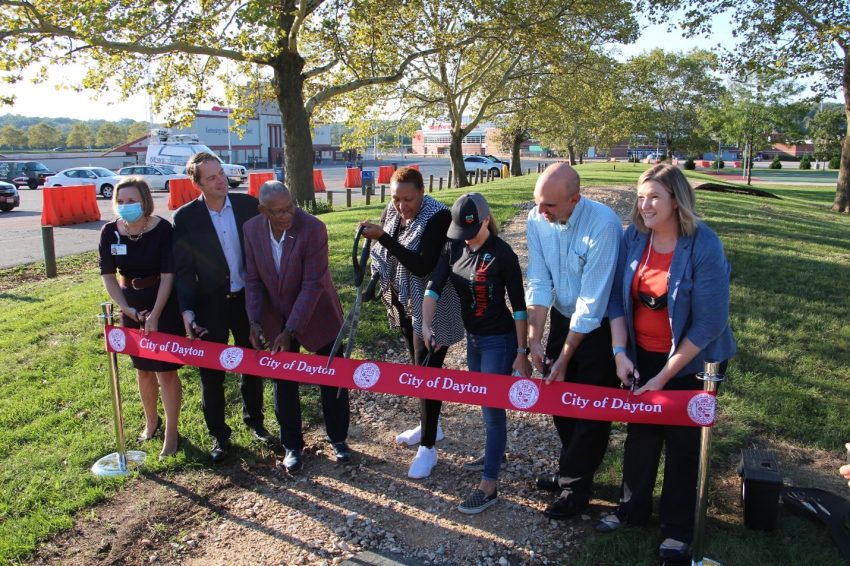 Two years after the ribbon cutting at the Bicycle Playground, the Dayton Bike Yard is ready for show time! The grand opening event on May 20, 2023, will highlight the unique features of the bike park while celebrating the neighboring communities.
Attendees are invited to bring their bikes and hit the trails. Need a bike? No problem. Five Rivers MetroParks will have their fleet of bikes (appropriate for kiddos and adults) on site to rent.
Event sponsors are bringing in an exciting group of riders to show off what's possible at the DBY. Guest riders include:
Alec Bob, sponsored by Bike Miami Valley
Mike "Hucker" Clark and Jeff UpShaw, sponsored by Trimble
Tommy Zula, sponsored by Airborne
Tyler Wogoman and Kevin Teets, sponsored by DK
The schedule of events is included below.
Time
Event(s)
10 A.M.*
BICYCLES FOR ALL Maintenance Clinic
11 A.M.*
BIKE MIAMI VALLEY Bike Parade featuring the Invincible
Regulating Stridettes Drill Team
All DAY
DJ Ivan Perdue and True Colors
Local food trucks
Vendor & Community Tables
Rent and ride a bike from Five Rivers MetroParks
MIKE'S BIKE PARK Maintenance Skills Clinic
11 A.M.
Bike Show (with awards!)
Registration open until 1:30 P.M. when judging will begin
12:30 P.M.
DK BIKES Pump Track ride
1:30 P.M.
MIKE'S BIKE PARK Jump Line ride
2:30 P.M.
BIKE MIAMI VALLEY Flow Trail ride
2:45 P.M.
Bike Show Awards Announced