When the idea for a bike park emerged, the City of Dayton made a promise to provide free bikes to neighborhood youth so that they might enjoy the new park as much as regional visitors. With strategic partnerships, the City is keeping that promise and on Saturday, March 4, 2023, celebrated the kick-off of the Community Bike Program.
The Community Bike Fund has three primary objectives:
To provide community and training for youth that live or spend time in the Carillon, Edgemont, and broader west-side neighborhoods to build their cycling confidence and proficiency with a focus on BMX and mountain biking.
To provide high-quality bikes to youth who complete the cycling training program so that they might ride the bike features located at the Dayton Bike Yard.
To meet equity and access commitments made to the neighborhood by the City of Dayton and partners.
On March 4, the program partners hosted a welcome event for participating youth and their families at Mike's Bike Park – the City of Dayton's only bike shop and original BMX park. Kiddos got to see the style of biking they might be able to do at the Dayton Bike Yard demonstrated by Tommy Zula (UCI Pump Track World Champion and Dayton native) and were sized for their bikes.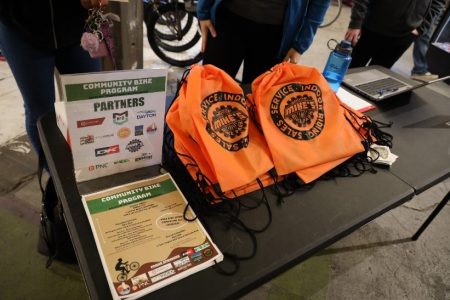 Twenty-one youth are included in the program's first cohort, ranging in ages from 8 to 17. Youth will participate in three education sessions run by the Miami Valley Mountain Bike Association and hosted at the DBY. Kids will learn basic bike maintenance, specific biking techniques used at the park, and trail maintenance skills. A short graduation ceremony will be hosted during the grand opening of the DBY on Saturday, May 20.
This program would not be possible without a dynamic team of community partners including the Miami Valley Urban League, Miami Valley Mountain Bike Association, Carillon Civic Council, Greater Edgemont Community Coalition, Bike Miami Valley, CityWide Development, Five Rivers MetroParks, and the Boys & Girls Club.
Recognition and thanks go out to our program sponsors including DK Bikes, Greater Dayton Regional Transit Authority, Bonbright Distributors, PNC Bank, and the Miami Valley Mountain Bike Association.